The Real Estate Staging Association Convention 2017 is coming to Las Vegas, NV in January. After spending hours each day inside a convention hall, listening to speakers and having conversations about staging, you will probably be ready to explore some of Las Vegas. Vegas has so much to do, so where to start? I have put together the top 11 things to do in Las Vegas, and only two of them have to do with gambling!
In the 9 years I lived in Las Vegas, I explored almost every nook and cranny, from the seedy joints to the classy clubs, and from the expansive Mojave Desert to every casino floor. I know Las Vegas, and I love Las Vegas. And I want to share my insider's view of the top things to do in 11 different categories.
This year the convention will be at The M Resort. If you have rented a car, and I hope you have, shuttle buses to the McCarran Rent A Car Center are just outside baggage claim at each terminal. After a 10 minute shuttle ride, get in your rental, set your GPS for The M Resort, and drive 10 miles south of The Strip. The M Resort has great views of The Strip, but you can't just walk outside the door and be in the middle of the action.
Enough talk already, let's get to the list!
1. Best Dinner
(Image Credits – Bill Hughes/Las Vegas Review-Journal)
Casa di Amore – If you do one thing in Las Vegas go to eat dinner at the Casa di Amore! Casa di Amore transports you back in time to old Las Vegas, when real Italians were running authentic Italian restaurants. Although it wasn't around in the Rat Pack days, Casa di Amore feels like a restaurant that the wise guys would go to enjoy a great Italian meal while being entertained by amazing crooners. Be sure to make reservations for dinner in at least a day or two in advance, and request the Casa di Amore limo to pick you up from your hotel – classy! When you go to Casa di Amore during the RESA Convention, you will likely find me there at the bar, where the bartenders are the best in Vegas, the locals know each other, there might be a little video poker being played, and sports are being shown on the bar TVs. So stop by and say hi!
2. Best Buffet
(Image Credits – Tom's Foodie Blog)
The Wicked Spoon at the Cosmopolitan – You can't go to Las Vegas without going to a buffet, right? Sure, The M Resort has the Studio B Show Kitchen Buffet, and it's really good. But for the absolute best buffet in Las Vegas, head to the middle of The Strip to The Cosmopolitan. The Wicked Spoon buffet is hands down the best buffet you will ever have. Selection: plentiful. Quality: amazing. Environment: The Cosmopolitan is a beautiful space. And giving the Wicked Spoon a unique edge is that most of the food is served in individual serving bowls. Rather than spooning all different types of food onto your plate, and having the pasta sauce run into your crab legs, everything is separated in perfect serving sizes.
3. Best Casino Bar
The Chandelier Bar at the Cosmopolitan – The Chandelier Bar is three stories (plus a half story) of bar inside of a chandelier. Really! It is truly a unique experience. Plus, the lounge singers at the bottom level provide great background music. The drinks are a little pricey, but amazing. You have to try the cosmopolitan, while lounging inside of a chandelier, at The Cosmopolitan. It doesn't get more Vegas than that!
4. Best Breakfast or Lunch with a View
(Image Credits – Macaroni and Cheesecake)
Mon Ami Gabi – Mon Ami Gabi is a fantastic French inspired restaurant inside the Paris Hotel (go figure). Although dinner is great, the breakfast and lunches are amazing too. There is typically too long of a line at dinner for my patience. When you go for breakfast or lunch, request a table on the patio. Don't worry, they have heat lamps if it's a little chilly outside. But if it is just too cold out, or the wait is too long, then request a table inside the sunlit atrium. Across from Mon Ami Gabi is the Bellagio Fountains, giving Mon Ami Gabi the absolute best view in Las Vegas. The fountains aren't running during breakfast or lunch during the winter, but you will still have a stunning view of the Bellagio.
5. Best Sports Book
(Image Credits – The Westgate SuperBook)
The Westgate Hotel SuperBook – Put in your future bets for your home town baseball team, bet on the NFL playoffs, maybe dabble in some hockey bets, or even bet the horses. The Westgate Las Vegas SuperBook is the crème-de-la-crème of sports books. They have the world's largest LED wall that they split into individual screens to show every game being played. It's truly amazing. The SuperBook director is Jay Kornegay. Jay and his team unofficially set the opening lines for every sporting event being played, so he's kind of a big deal. A couple of things to note:
The Westgate Hotel is a relatively new name. You may have previously known the casino as The LVH, The Las Vegas Hilton, or even The International (for those of you lucky enough to have seen Elvis perform in Vegas).
If you make a bet for a game that happens after you leave Las Vegas, or you don't have a chance to cash in your winnings while you're there, you can mail in your ticket. The instructions on the back of the ticket. The sports book will then verify the ticket is a winner, and mail you back your winnings.
Totally confused about betting? Shoot me an email, because I'll be happy to answer any questions that you have. I know it can be confusing, but it also adds excitement to any game that you're watching.
Every casino in Las Vegas has a sportsbook, including The M, but the Westgate blows them all away.
6. Best Way to Get Free Drinks at a Bar
(Image Credits – Mike Jacobs/Stager Sidekick)
Video Poker – You will notice that bars in Las Vegas have TV screens at every seat. It makes most people do a double-take the first time they see them. Those video screens aren't showing "The Voice"… they are actually video poker machines. Most of the machines let you play video poker, video blackjack, video keno, and even some basic video slot machine games. What do they have to do with free drinks? Put at least $20 in the machine, bet a minimum of $1 (for video poker that would be a 25 cent game at max bet, which is $1.25/bet), and order anything you want, except for that fancy 23 year old Pappy Van Winkle. The easiest games to play for beginners are Blackjack, and Jacks or Better video poker. I would estimate that 90% of bars have video poker machines, so you won't have a hard time finding one to play.
7. Best Tourist Spot for the History Buff (or engineering geek)
(Image Credits – LasVegas.net)
Hoover Dam – Want to see the largest government project to ever be completed under budget and ahead of schedule? The Hoover Dam is only a 30 minute drive from The M Hotel or downtown Las Vegas. You have seen the Hoover Dam in the movies, but nothing compares to seeing it in real life. If you don't have a car, then take a tour. Pink Jeep Tours offers a 4 hour roundtrip tour to the Hoover Dam for only $92. You'll learn amazing facts about the Hoover Dam (do you know how many workers are buried in the dam?), background about Boulder city, tidbits about Las Vegas, and hopefully hear some great "dam" jokes.
8. Best Tourist Spot for Taking a Break from Vegas
(Image Credits – Bureau of Land Management)
Red Rock Canyon – Want to get away? Red Rock Canyon is only 30 minutes away from The M Hotel or downtown Las Vegas. Get away from the sensory overload of the casinos to see the amazing red and white rocks and fields of Joshua trees. Pink Jeep Tours offers a 4 hour roundtrip tour to Red Rock Canyon where you'll learn the reason for the brilliant colors of the rocks, see some 2000 year old Native American graffiti, and learn why Joshua trees aren't actually trees at all. Plus, you'll see fantastic views of the entire Las Vegas Valley. All of that for only $85!
9. Best Free Shows on The Strip
It may have become a little bit harder these days to get that free buffet in Vegas, but free buffets have been replaced by some amazing free shows and exhibits. Put on your walking shoes, because you can see four great attractions within just one mile.
10. Best Place to be a Kid Again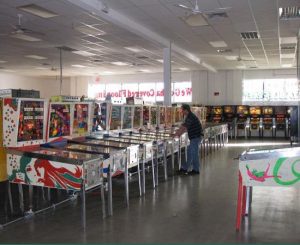 (Image Credits – Pinball Hall of Fame)
The Pinball Hall of Fame. This isn't so much of a Hall of Fame as it is a massive arcade of original pinball machines and video games. This massive warehouse of games is anything but cozy, but there is no where else in Las Vegas that $5 in quarters will provide hours of entertainment. These aren't the $2 machines that your kids play. These are the 25 cent machines that you played as a kid.
11. Best Places to Shop
In full disclosure, I had to get the best place to shop from my wife. In full disclosure, she couldn't give me just one spot to shop. So if you are a shopper, then you'll enjoy the four best places in Las Vegas to shop:
BONUS: Best Photo Opportunity
(Image Credits – Bill Debevc/Creative Commons)
The Welcome to Las Vegas Sign – This sign is iconic. Period. Not getting your picture at the Las Vegas Sign is like going to San Fransisco and not getting your picture on Lombardi Street, or like going to Memphis and not going to Graceland, or going to Rome and not seeing the Coliseum. Up until 2008, you had to park on the curb on Las Vegas Boulevard and dodge traffic to cross the street to get to to the sign. Now, there is a nice parking lot, eco-friendly landscaping, and usually an Elvis impersonator at the sign. Prepare your crazy poses in advance, because there's typically a crowd of people so you better get your picture done quick when you get your chance.
There you have it! The top 11 and one Bonus thing to do in Las Vegas during the RESA Convention. Why 11? Why not?
There are so many other great things to do in Las Vegas, but just as Las Vegas can be overwhelming, I didn't want to make this list overwhelming.
If you are going to the RESA Convention and have some questions about anything on this list, or anything else to do in Las Vegas, then send me an email and I'll help any way that I can. See you at the RESA Convention!